 Texas Visiting Nurse Service in Edinburg
Community Care Services Tailored to You and Your Loved One
Our Texas-based teams are invested in your community to help you live a better life, regardless of your health needs. Our 40 years of experience mean we offer personalized care for each of our patients, which includes 24/7 on-call service lines when our office is closed for the day. We want you to feel safe and supported at any time.
Office Address:
3007 W Alberta Road, Edinburg, TX 78539
Hours of Operations:
Monday - Friday: 8 AM - 12 PM, 1 PM - 5 PM
Weekday On-Call Service: 12PM-1PM, after 5PM
Saturday & Sunday: On-Call Service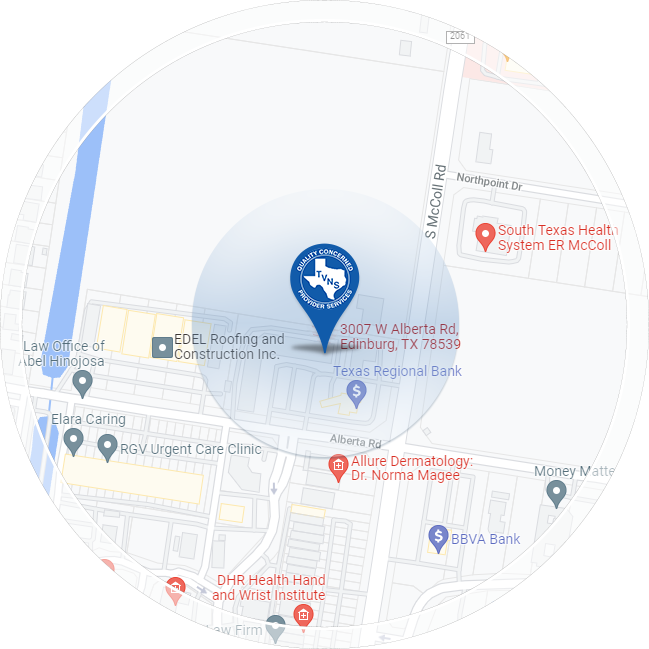 Respite
Caregivers who tend to seniors, those who are physically or emotionally challenged, or individuals with special needs, are often in need of a little time off from their round-the-clock caregiving. Too much time without a break can lead to caregiver burnout, depression, and health problems. Short breaks help you make it through the long haul.
Respite care is nothing complicated. It's simply relief from caregiving duties when you're looking after a loved one who requires frequent, monitored care. By caring for your own well-being while we help watch over your loved one, you may be a healthier and happier caregiver.
Other Services Texas Visiting Nurse Service Provides
Our priority is to create a team to support you with the appropriate visiting nurse services for your situation. No matter what your health needs are, we work together to connect you with appropriate community care.
Besides respite, our Edinburg location offers other at-home care options. Primary home care,private pay home care, and STAR + PLUS/STAR + PLUS Waiver services help with daily tasks for seniors and/or individuals with limited ability. Eligibility and available services may vary.
Community Living Assistance and Support Services (CLASS) provide similar assistance and are especially suited for people who prefer to stay home rather than go to a care facility. Adult Protective Services (APS) support the elderly or adults with specific health needs if they have suffered abuse or neglect. STAR Kids is a program for children and youth with specific health needs to help them with day-to-day life.
Contact Our Edinburg Team
Our office is open to visitors during operations hours. We provide service in English and Spanish and welcome local families!
Do you have a question about our available care options? Give us a call at (956) 446-2440 or contact us online and we will be happy to help you!

REAL PEOPLE, REAL TESTIMONIALS
Opinions That Matter the Most
"All the staff is very friendly, courteous, and eager to help the clients and attendants."

- Clarita C.

"This company is proud to have the opportunity to enhance the quality of life and to maintain our patients' health with our services. My mother is a current client of TVNS, LTD and very happy with her services."

- Norma D.

"TVNS has been in business since 1981. The heart and soul of this business are to care for our community, our family, our employees, and our clients."

- Vanessa S.