 Texas Visiting Nurse Service in Harlingen
Personalized In-Home and Community-Based Care in Texas
At Texas Visiting Nurse Service (TVNS), we offer you and your family care options tailored to your needs. Our priority is to create a support network to make your life better. We are here to serve you with 40 years of experience. We provide you with a 24/7 on-call service line to contact your health team whenever you need to.
Office Address:
814 E Tyler Avenue, Harlingen, TX 78550
Hours of Operations:
Monday - Friday: 8 AM - 12 PM, 1 PM - 5 PM
Weekday On-Call Service: 12PM-1PM, after 5PM
Saturday & Sunday: On-Call Service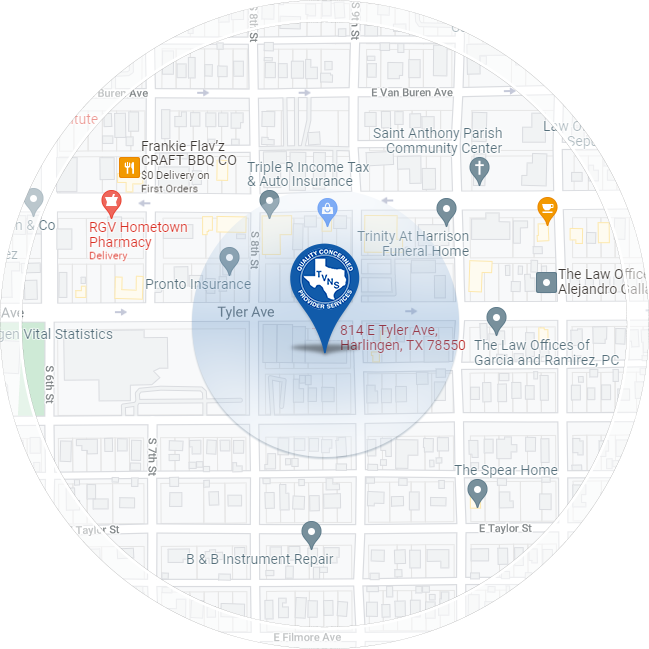 STAR Kids
This program is designed to meet the unique needs of youth and children with disabilities. STAR Kids will provide personal attendant and respite care services for individuals with special needs who are 20 years and younger. We work with you to decide on the most appropriate personal assistance services depending on their needs and level of function.
The STAR Kids program includes:
Personal hygiene and grooming services
Meal preparation and feeding
Cleaning tasks, including laundry
Transfer and travel services
Eligibility is determined by Texas Health and Human Services (HHS). The application is then sent to a managed care organization for authorization. For more information, you may contact your local HHS or visit Your Texas Benefits.
STAR + PLUS/STAR + PLUS Waiver Services
Texas' STAR + PLUS program provides a variety of services for Medicaid-approved recipients who are 21 years or older. Clients must meet medical necessity, financial needs, and eligibility for nursing home placement, but want to stay at home.
STAR + PLUS/STAR + PLUS Waiver services include:
Personal assistance (bathing, dressing, etc.)
Respite care
Eligibility is determined by the HHS. Your Managed Care Organization (CCO) representative may know if you qualify for additional services.
Other Ways We Can Help
No matter what your health needs, our priority is to design a program that will improve your quality of life. We make sure to connect you to the services you need.
Besides STAR Kids and STAR + PLUS, our Harlingen location also offers the following care options:
Primary home care and private pay home care for seniors and individuals with a disability who need assistance with day-to-day tasks
Respite for caregivers who need a short break from their duties for better energy and mental health
Community Living Assistance and Support Services (CLASS) to help adults with health needs and those who prefer staying at home over going to a care facility
Adult Protective Services (APS) to support seniors and adults with certain medical conditions who have been victims of neglect and/or abuse
Contact Our Harlingen Team
We welcome the families we help and new visitors to our office during business hours. Our team can speak with you in either English or Spanish.
Would you like to learn more about how we can support you and your loved ones? Use our online form or call us at (956) 420-0447 and we will answer your questions!

REAL PEOPLE, REAL TESTIMONIALS
Opinions That Matter the Most
"All the staff is very friendly, courteous, and eager to help the clients and attendants."

- Clarita C.

"This company is proud to have the opportunity to enhance the quality of life and to maintain our patients' health with our services. My mother is a current client of TVNS, LTD and very happy with her services."

- Norma D.

"TVNS has been in business since 1981. The heart and soul of this business are to care for our community, our family, our employees, and our clients."

- Vanessa S.