 Texas Visiting Nurse Service in Brownsville
Community Care Services for Individuals with Different Needs
Texas Visiting Nurse Service (TVNS) works with you to build a community-based network to meet your health needs. At Texas Visiting Nurse Service, our goal is to provide you with the right community care for your situation.
With 40 years of experience, we know that your service needs don't end when office hours are over. Thanks to our 24/7 on-call service line, you can message your health team at your convenience.
Office Address:
422 East Elizabeth Street, Brownsville, TX 78520
Hours of Operations:
Monday - Friday: 8 AM - 12 PM, 1 PM - 5 PM
Weekday On-Call Service: 12PM-1PM, after 5PM
Saturday & Sunday: On-Call Service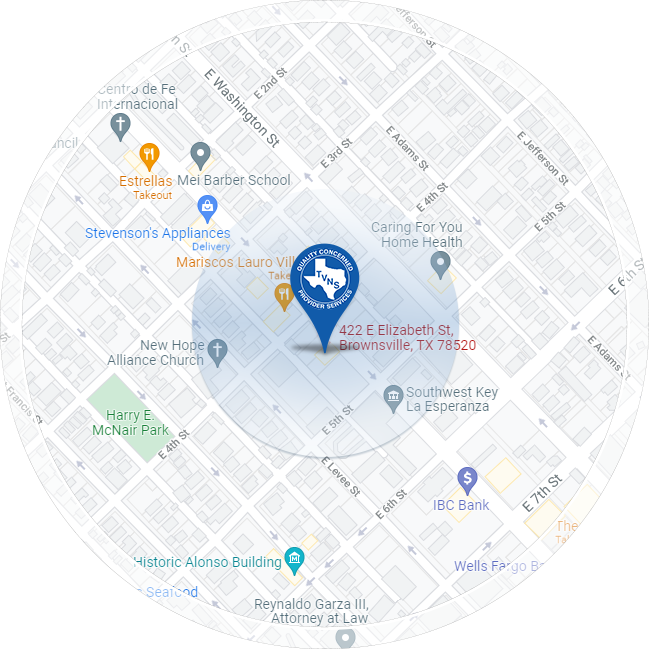 Primary Home Care
Our team offers this option to adults whose health problems cause them to have limited functionality for daily living activities. This is a personal care program that is non-technical and designed to assist with various tasks at the individual's home.
Primary home care services include:
Bathing, dressing, toileting, and other grooming services
Meal preparation and feeding
Cleaning and laundry
Transfer, ambulation, shopping, and other travel services
Learn more about the program's eligibility requirements on the Texas Health and Human Services (HHS) website.
Adult Protective Services (APS)
Adult Protective Services are non-skilled and non-technical options. Our experienced teams provide this nursing care in a client's home. Our attendant's goal is to protect elderly (65 years or older) and disabled individuals from abuse, neglect, and/or exploitation. If you suspect or have experienced these issues impacting a loved one, we are here to support you.
Someone who has suffered from abuse, neglect, and/or exploitation may receive short-term help with the following:
Food
Transportation
Medical care
Home healthcare services
Mental health services
Eligibility is determined by the Texas Department of Family and Protective Services. You may get more information about Adult Protective Services from HHS or Your Texas Benefits.
Our Other Visiting Nurse Services
No matter what your health needs are, our goal is to build a team that will support you. Besides primary home care and Adult Protective Services, our Brownsville location also offers the following community care services:
STAR + PLUS/STAR + PLUS Waiver Services
Community Living Assistance and Support Services (CLASS)
STAR Kids
Respite
Private Pay Home Care
We deeply care for the families we assist, and you are welcome to come see us during normal operational hours. Our staff speaks English and Spanish!
Call us today at (956) 446-2445 or contact us online for more information about how we can help with your health situation!

REAL PEOPLE, REAL TESTIMONIALS
Opinions That Matter the Most
"All the staff is very friendly, courteous, and eager to help the clients and attendants."

- Clarita C.

"This company is proud to have the opportunity to enhance the quality of life and to maintain our patients' health with our services. My mother is a current client of TVNS, LTD and very happy with her services."

- Norma D.

"TVNS has been in business since 1981. The heart and soul of this business are to care for our community, our family, our employees, and our clients."

- Vanessa S.