 Texas Visiting Nurse Services in Kingsville/Corpus Christi
Compassionate Care Service for Texas Communities
At Texas Visiting Nurse Service (TVNS), we believe in the importance of community, which is why we are here to support your health needs in your home. Our team will work with you and your loved ones to find the care options that best meet your health needs. Our patients' safety is a priority, and we have a24/7 on-call service line. This allows you to contact your support team outside of business hours and on the weekend.
Office Address:
800 East King Avenue, Kingsville, TX 78363
Hours of Operations:
Monday - Friday: 8 AM - 12 PM, 1 PM - 5 PM
Weekday On-Call Service: 12PM-1PM, after 5PM
Saturday & Sunday: On-Call Service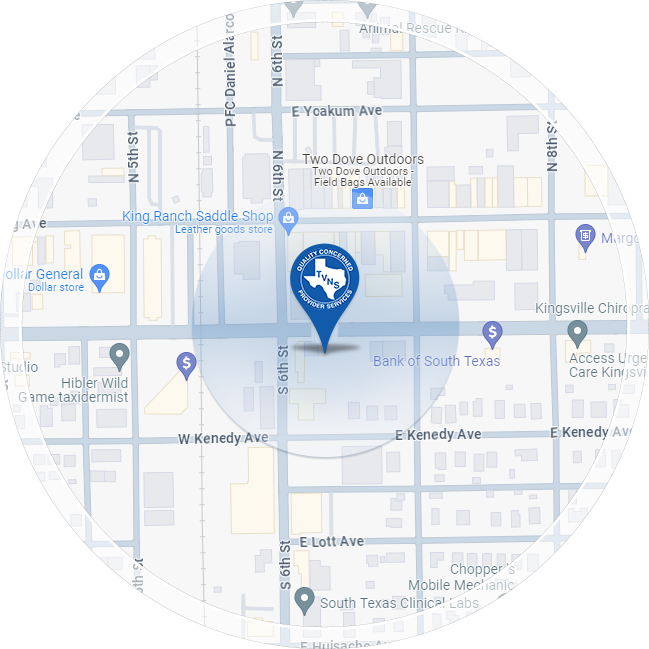 Respite
Our respite service allows caregivers to make time for themselves. This way they can get some rest and enjoy some well-earned time off from their duties while our team watches over their loved ones. The goal of respite is to promote wellbeing and better mental health for the caregiver.
We understand that compassionate and chronic care is a rewarding but demanding experience. We want to help you and your family make sure that everyone is taken care of.
Private Pay Home Care
This customized home care program helps you or your loved one with daily tasks that are difficult to do on your own. We work with you and your family to build a plan appropriate for your situation. Our experienced home-care attendants can also offer a short-term respite option for regular caregivers who need some time off.
Primary pay home care can help you with:
Personal hygiene
Laundry and other household tasks
Grocery shopping and meal preparation
Protective monitoring
The costs of primary pay home care depend on the specific tasks your health needs require. You can speak with your insurance companies to know what services are covered by your policy.
Other Visiting Nurse Services We Provide
Besides respite and private pay home care, our Kingsville location has a variety of care options available. We provide support for seniors and individuals with certain conditions who have suffered from abuse and/or neglect with Adult Protective Services (APS).
Some other programs offered to help with your day-to-day activities include Primary home care (for senior and adults with disabilities); STAR Kids (for children and youth with certain medical conditions); CLASS: Community Living Assistance and Support Services (for those eligible for care facilities but who prefer staying at home); and STAR + PLUS (for certain Medicaid recipients).
Contact Our Kingsville Team
We've been helping families for 40 years and are always happy to welcome them to our office! Don't hesitate to visit us during our hours of operation. Our staff can talk with you in English and Spanish!
Questions about our care options? Comments about your current services? We're here for you! Just give us a call at (361) 675-8899 or use our online form!

REAL PEOPLE, REAL TESTIMONIALS
Opinions That Matter the Most
"All the staff is very friendly, courteous, and eager to help the clients and attendants."

- Clarita C.

"This company is proud to have the opportunity to enhance the quality of life and to maintain our patients' health with our services. My mother is a current client of TVNS, LTD and very happy with her services."

- Norma D.

"TVNS has been in business since 1981. The heart and soul of this business are to care for our community, our family, our employees, and our clients."

- Vanessa S.