 Texas Visiting Nurse Service in Zapata
40+ Years of Individualized Care
At Texas Visiting Nurse Service (TVNS), we have over 40 years of experience providing compassionate care solutions for your loved ones. We deliver exceptional services to individuals of all ages, and our knowledgeable professionals will develop a personalized plan, match the caregiver to the needs of the client, and give your loved one the individualized attention they deserve.
Office Address:
1301 N Business 83, Suite B Zapata, TX 78076
Hours of Operations:
Monday - Friday: 8 AM - 12 PM, 1 PM - 5 PM
Weekday On-Call Service: 12PM-1PM, after 5PM
Saturday & Sunday: On-Call Service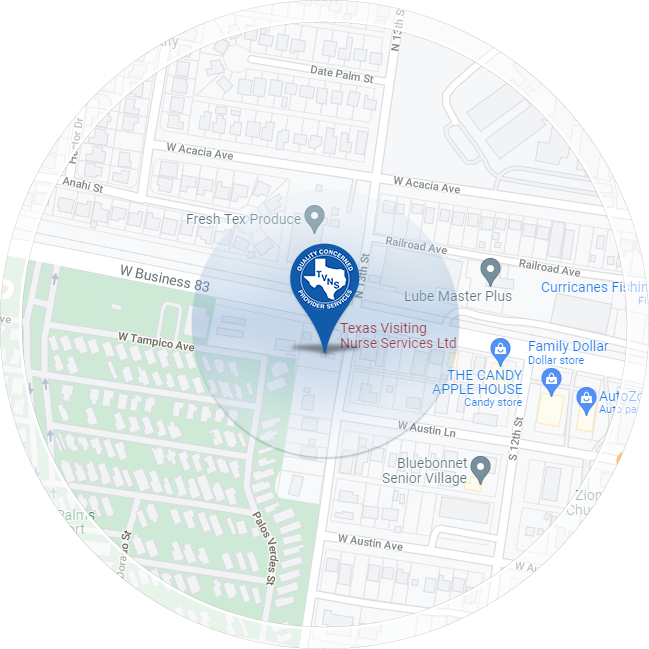 Our services include:
Primary Home Care (PHC): If your loved one requires help performing activities of daily life, due to health problems, Primary Home Care might be the best option. We offer both family care as well as community attendant services. These services are designed to help children, adults, or seniors with activities such as bathing, dressing, grooming, meal preparation, feeding, shopping, ambulation, laundry, and escort. These services are provided by an attendant and do not require the supervision of a registered nurse.
Community Living Assistance and Support Services: If your loved one is eligible for or receiving Supplemental Security Income (SSI) or Medicaid and has an intellectual disability or related condition, Community Living Assistance and Support Services (CLASS) could be a cost-effective alternative to placement in an intermediate care facility. These services include bathing, dressing, physical therapy, occupational and speech therapy, psychological services, caregiver services, and more.
STAR Kids: For personal attendant and respite care for children and young adults under 20 years of age, STAR Kids offers personal assistance services to help your loved one with daily activities such as bathing, dressing, toileting, grooming, feeding, meal preparation, cleaning, laundry, ambulation, transfer, shopping, and escort.
Respite: For temporary relief from caregiving duties, our team offers respite services. This ensures your loved one is looked after while providing you with a short break.
Private Pay Home Care: These day-to-day support services are customized to your specific needs and performed by an experienced home-care attendant. Services can include personal hygiene assistance, light household chores, meal preparation, laundry, and grocery shopping.
Adult Protective Services (APS): To protect elderly or disabled individuals from abuse, we offer non-technical services performed by highly trained and compassionate attendants.
STAR PLUS/STAR PLUS WAIVER Services: If your loved one meets medical necessity, financial eligibility, and qualifies for nursing home placement, but wants to stay at home, we offer STAR PLUS/STAR PLUS WAIVER services.
If you are interested in learning more about our services, or want to pop in and say hello, come see us! We are open Monday – Friday from 8 a.m. to 5 p.m. We are also on-call Saturday and Sunday for your convenience.
To learn more about our services, call our team today at (956) 474-2838 or fill out our quick and easy online form.

REAL PEOPLE, REAL TESTIMONIALS
Opinions That Matter the Most
"All the staff is very friendly, courteous, and eager to help the clients and attendants."

- Clarita C.

"This company is proud to have the opportunity to enhance the quality of life and to maintain our patients' health with our services. My mother is a current client of TVNS, LTD and very happy with her services."

- Norma D.

"TVNS has been in business since 1981. The heart and soul of this business are to care for our community, our family, our employees, and our clients."

- Vanessa S.