 Texas Visiting Nurse Service in Laredo
Texas In-Home Nursing Services
Providing compassionate care for individuals of all ages is our priority. We believe in the power of community so you can have a better life no matter your medical condition(s). Our team will talk with you to decide on care options tailored to your needs. Your safety is important to us, which is why you can contact your health network 24/7 thanks to our on-call service line.
Office Address:
1103 Corpus Christi Street, Laredo, TX 78040
Hours of Operations:
Monday - Friday: 8 AM - 12 PM, 1 PM - 5 PM
Weekday On-Call Service: 12PM-1PM, after 5PM
Saturday & Sunday: On-Call Service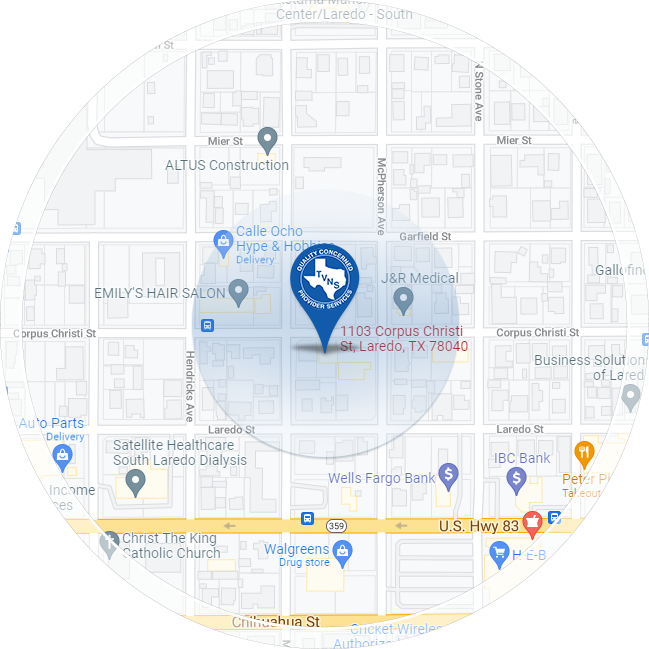 STAR Kids
Helping youth and children (20 years old and younger) with disabilities is the goal of this care service. In-home and personal assistance depends on the individual's medical needs and the tasks they require us for.
STAR Kids services include various grooming services, grocery shopping, food preparation, household chores, and transportation services. We also offer respite services to provide a break to their usual caregivers.
The Texas Health and Human Services (HHS) determines eligibility and submits the applicant's file for approval to a managed care organization. Your local HHS or visiting Your Texas Benefits may provide you with more details about available options.
Other Care Services We Can Help You With
Our 40 years of experience means that we are here to help you find the in-home care service that suits your situation. Besides STAR Kids, our Laredo team offers a variety of other options.
Primary home care, private pay home care, and STAR + PLUS/STAR + PLUS Waiver services help with daily activities (including personal hygiene and household tasks) for seniors and individuals with certain medical conditions.
Community Living Assistance and Support Services (CLASS) support individuals with specific health conditions, including seniors. This option also provides day-to-day support and is a great option for those who wish to stay at home rather than live in a care facility.
Adult Protective Services (APS) are here for elderly individuals and those with disabilities who have been victims of abuse and/or neglect. This offers in-home assistance with various tasks around the house.
Respite allows caregivers to take breaks while our team watches over their loved ones.
Contact Our Laredo Team
We love helping families and speak English and Spanish. Our offices are open for visits during business hours, so stop by if you want more information or have questions about our care options.
Do you need to change something about your services? Have questions before working with us? Contact us via phone at (956) 567-9040 or use our online form!

REAL PEOPLE, REAL TESTIMONIALS
Opinions That Matter the Most
"All the staff is very friendly, courteous, and eager to help the clients and attendants."

- Clarita C.

"This company is proud to have the opportunity to enhance the quality of life and to maintain our patients' health with our services. My mother is a current client of TVNS, LTD and very happy with her services."

- Norma D.

"TVNS has been in business since 1981. The heart and soul of this business are to care for our community, our family, our employees, and our clients."

- Vanessa S.