 Texas Visitng nurse service in Weslaco
Texas Visiting Nurse Service (TVNS) provides support and care for individuals with different needs throughout Weslaco. With over 40 years of experience, we have developed a community of people whose main focus is the care of your loved one. Our team will work with you to develop a personalized plan of care and match you with a caregiver that best meets your needs.
Office Address:
300 West 5th Street, Weslaco, TX 78596
Hours of Operations:
Monday - Friday: 8 AM - 12 PM, 1 PM - 5 PM
Weekday On-Call Service: 12PM-1PM, after 5PM
Saturday & Sunday: On-Call Service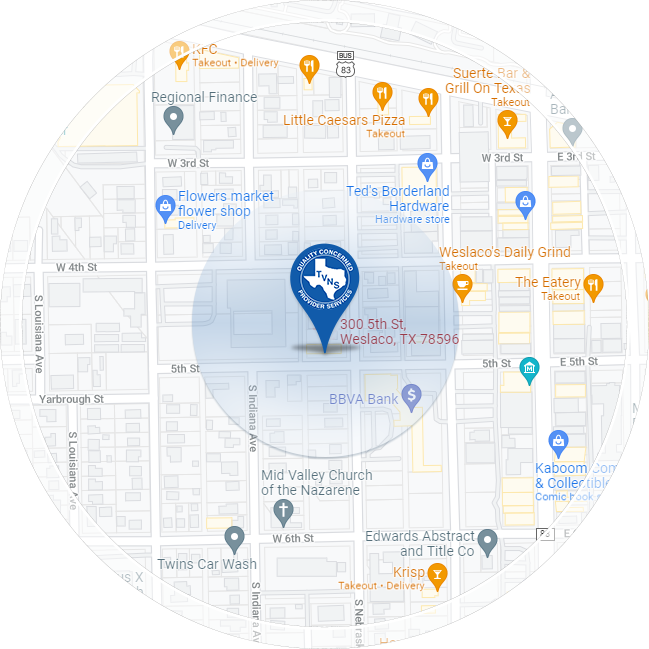 Weslaco Caregivers for Individuals with Different Needs
Our highly trained and experienced professionals offer a wide array of care services to help individuals of all ages. So, whether you need respite from caring for a senior family member, your child needs assistance with day-to-day activities, or a loved one with health issues could use help with daily living functions, our qualified team can help.
Our visiting nurse services include:
Primary Home Care, including family care and community attendant services
STAR PLUS/STAR PLUS WAIVER Services
Community Living Assistance and Support Services (CLASS)
STAR Kids
Respite
Private Pay Home Care
Adult Protective Services (APS)
Adult Protective Services (APS) in Weslaco
At Texas Visiting Nurse Service, we make it a priority to protect and nurture the weakest among us. That is why we are proud to offer Adult Protective Services (APS). If there is an elderly person or someone with a disability in your life that you suspect has been abused, neglected, or exploited, we recommend reviewing these resources, reporting the issue, and then reaching out to our trained and compassionate professionals.
We might be able to help with short-term solutions for the following:
Transportation
Medical care
Home healthcare services
Mental health services
Food
No matter what type of home care service you need, our team would love to meet you! Feel free to visit us during our normal business hours. We are available Monday – Friday from 8 a.m. to 5 p.m.
If you are curious about how we can help your loved one thrive, call us today at (956) 474-3838 or fill out our online contact form.

REAL PEOPLE, REAL TESTIMONIALS
Opinions That Matter the Most
"All the staff is very friendly, courteous, and eager to help the clients and attendants."

- Clarita C.

"This company is proud to have the opportunity to enhance the quality of life and to maintain our patients' health with our services. My mother is a current client of TVNS, LTD and very happy with her services."

- Norma D.

"TVNS has been in business since 1981. The heart and soul of this business are to care for our community, our family, our employees, and our clients."

- Vanessa S.