 Texas visiting nurse Service in Rio Grande
40+ Years of High-Quality Care
For high-quality and compassionate care services in Rio Grande City, turn to our professionals at Texas Visiting Nurse Service (TVNS). With over 40 years of experience, we have the resources, skill, and community needed to support your loved ones. We offer care services to individuals with different needs of all ages. By providing individualized support and matching the caregiver to the needs of our client, we are able to deliver the quality home care your loved one deserves.
Office Address:
5346 E US Highway 83, Rio Grande City, TX 78582
Hours of Operations:
Monday - Friday: 8 AM - 12 PM, 1 PM - 5 PM
Weekday On-Call Service: 12PM-1PM, after 5PM
Saturday & Sunday: On-Call Service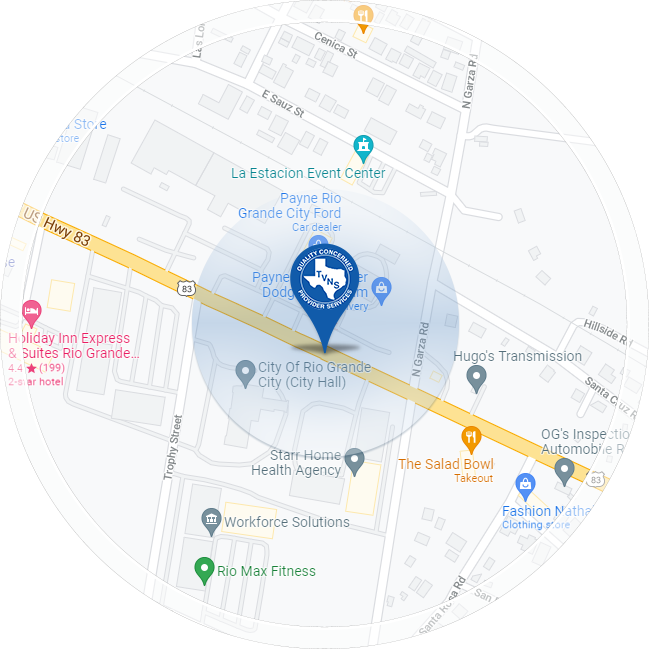 Primary Home Care (PHC) Services in Rio Grande City
When an adult has health problems that limit them from performing certain daily activities, it can be frustrating for all involved. Our highly trained caregivers are here to help your loved one thrive—delivering personalized and compassionate support. Eligibility for our Primary Home Care (PHC) service is determined by the Texas Health and Human Services. If you qualify, our team of professionals will walk you through the process and provide a welcoming and comfortable environment to discuss your specific needs.
Our PHC services provide help with:
Meal preparation and feeding
Ambulation
Bathing, dressing, and routine grooming
Toileting assistance
Cleaning and laundry
Shopping and errand escort
A Full Range of Visiting Nurse Services
There is no one-size-fits-all solution to care. That is why we offer a number of provider services that are all customized to your loved one's unique needs. We work with you to develop a plan and match a trained caregiver to your case.
In addition to our primary home care services, we offer:
Community Living Assistance & Support Services (CLASS)
Private Pay Home Care
STAR Kids
STAR PLUS/STAR PLUS WAIVER Services
Respite
If you are curious about how our services can help your loved one, we would love to meet with you! Visit us at our Rio Grande City office during normal business hours—Monday through Friday from 8 a.m. – 5 p.m.
Call our friendly and knowledgeable team today at (956) 253-2444 or fill out our quick and easy online form to learn more about our services.

REAL PEOPLE, REAL TESTIMONIALS
Opinions That Matter the Most
"All the staff is very friendly, courteous, and eager to help the clients and attendants."

- Clarita C.

"This company is proud to have the opportunity to enhance the quality of life and to maintain our patients' health with our services. My mother is a current client of TVNS, LTD and very happy with her services."

- Norma D.

"TVNS has been in business since 1981. The heart and soul of this business are to care for our community, our family, our employees, and our clients."

- Vanessa S.